Regular price
Sale price
$30.00
Unit price
per
Sale
Sold out
Liquid Hair Food for Your Scalp
We've taken the best parts of your favorite fall treat and put them in a bottle. Here's why. 
Pumpkins are an excellent source of many different vitamins, including A, C, and E.
Sebum, a natural oil that lubricates the scalp and maintains healthy hair, is increased by vitamin A. Collagen formation is aided by vitamin C, making for stronger, faster-growing hair.
As an antioxidant, vitamin E protects the scalp and improves hair health.
Nutrients like potassium, iron, and zinc, which are found in pumpkin, are essential for a healthy scalp and strong hair.
Potassium aids in keeping the scalp moist and in increasing the suppleness of the hair.
Hair follicles benefit from iron because it helps them get the oxygen they need to flourish.
Zinc controls sebum production, keeping the scalp healthy by reducing the development of excess sebum that may cause problems.

Pumpkin is rich in nutrients including beta-carotene and omega-3 fatty acids, all of which are beneficial to the health of your hair.
Hair development is stimulated by beta-carotene because it is transformed into vitamin A in the body.
Reducing inflammation and fostering a healthy, hydrated scalp are two ways in which omega-3 fatty acids help to scalp health.

Pumpkin's high water content has been shown to have beneficial effects on the scalp by providing natural hydration and reducing dryness and flakiness.
A healthy scalp that is properly moisturized results in less dandruff and stronger hair.
Provides hair with nutrients
Reduces hair loss
Repairs damaged hair follicles
Great for all hair types
It's always pumpkin season with our Pumpkin Hair Serum! 
Our pumpkin hair serum is exactly the hair food your scalp needs.
Your hair and scalp will love this serum, here's why:

100% natural, vegan formula
Free of harsh chemicals
Strengthens and nourishes the follicles
Stimulates hair growth
Reduces scalp inflammation and dandruff
Great for all hair types
Ingredients: Prunus Amygdalus Dulcis, Cucurbita Pepo Seed Oil
Directions:
Massage 5-10 drops throughout your scalp once a day or as needed

Share
View full details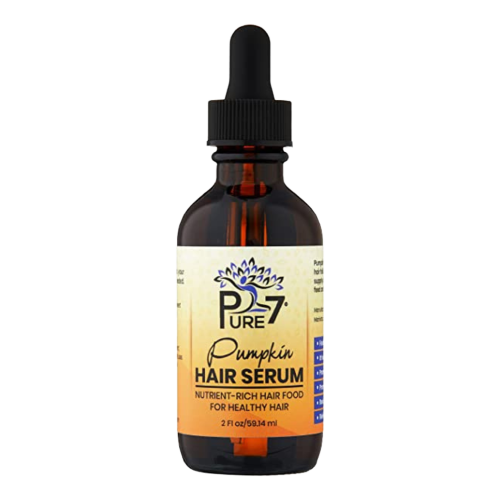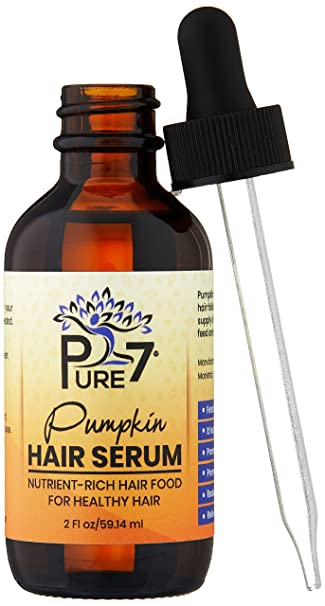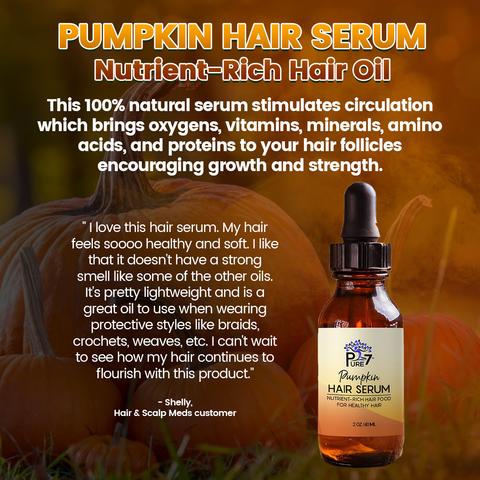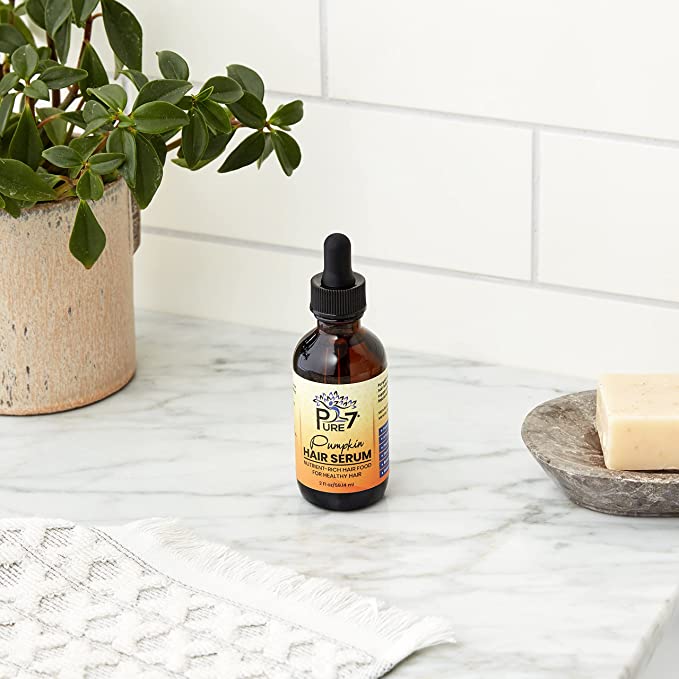 It's always pumpkin season with our Pumpkin Hair Serum!
Your hair gets nutrients from your body but getting help from outside the body is also important if you want your hair to stay healthy and grow. This very popular nutrient-rich hair serum feeds your scalp and hair with must-have nutrients. Our pumpkin hair serum is exactly the hair food your scalp needs.
Prunus Amygdalus Dulcis, Cucurbita Pepo Seed Oil
Massage 5-10 drops throughout your scalp once a day or as needed